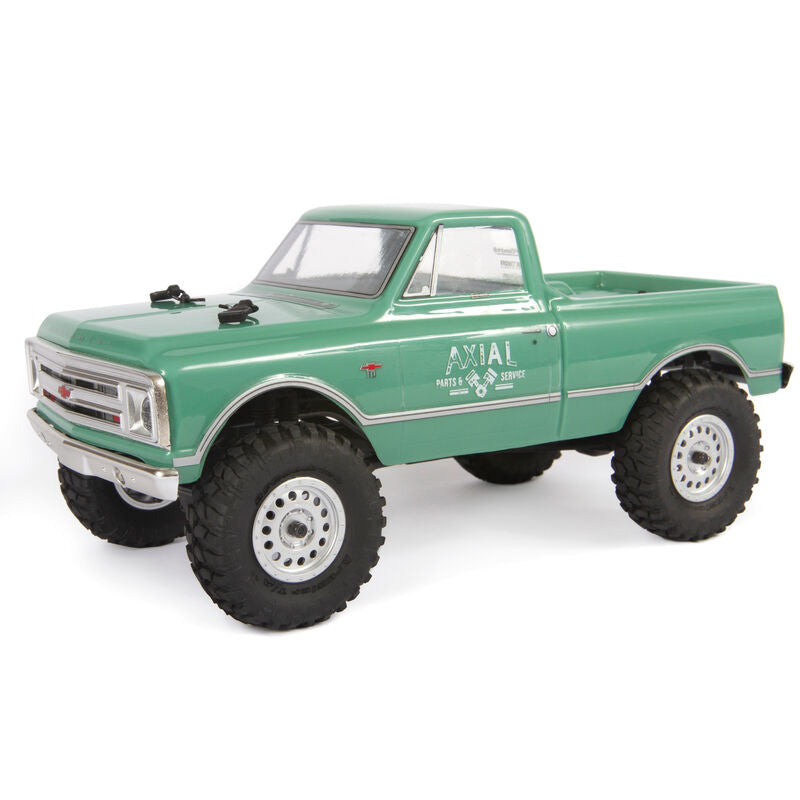 1/24 SCX24 1967 Chevrolet C10 4WD Truck Brushed RTR
The detailed, ready-to-run 1967 Chevrolet C10 Truck is the latest model in the popular SCX24™ series...
customers are viewing this product
The detailed, ready-to-run 1967 Chevrolet C10 Truck is the latest model in the popular SCX24™ series from Axial® Racing. Its compact, versatile 1/24 scale size opens up almost any environment to spur-of-the-moment RC crawling expeditions. When it's time for a break at work, set up an obstacle course with items on your desk for the SCX24™ Chevrolet C10 Truck to negotiate. Any room at home can also become the setting for exciting feats and contests. If you'd rather run outdoors, go for it! Collect some twigs and marble-size rocks, dig a few holes, and soon you'll have a challenging trail for fresh air adventuring. Your truck's water-resistant electronics save you from having to worry about wet track conditions when you crawl.
With its realistic steel chassis frame rails, steel front and rear axles, and steel dogbones, this model has the strength to deliver Axial®-caliber crawling performance even in 1/24 scale. It's designed to keep right on running through rough trails and tough climbs. The SCX24™ 1967 Chevrolet C10 comes ready-to-run with all of the electronics, transmitter, receiver, servos, motor, ESC, batteries and charger included.
Check the My Orders page. In the upper right hand corner click on My Orders. If you don't have an account you'll first need to create and account to track your orders. Create an account by Clikcing Here. Once your account has been created you'll be able to track any future orders. All orders created without an account will have been sent to the email provided on the order. Please check your email. Thank you.
Please follow the steps below:
1. In case you need to return an item please contact our support: info@champion-rc.com please provide your order number as a refrence. You can also contact us by phone +1 (844) 49-CHAMP. Please be prepared to provide an order #. Thank you.

2. Once you've been provided an RMA# send the package back to us with return details provided to you.

If an item is out of stock we generally will have it back in stock within 2-4 weeks possibly even sooner. Items we no longer carry are marked as 'discontinued' but in some cases we might be able to find a replacement or even order the part. Please call us directly if you need a discontinued part or accessory. Thank you.
Each product has an 'Accessories' tab. If no accessories are available or the accessory you are needing is not listed please contact our support. Thank you.