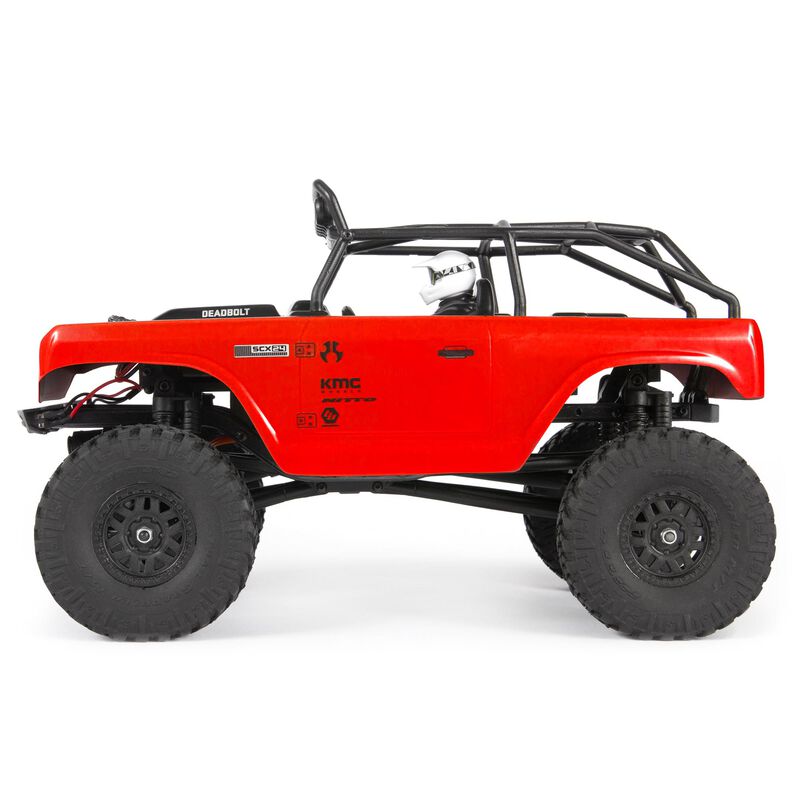 1/24 SCX24 Deadbolt 4WD Rock Crawler Brushed RTR
The SCX24™ Deadbolt™ 4WD is the first Axial® off-roader in 1/24 scale. At less than 8" long,...
customers are viewing this product
The SCX24™ Deadbolt™ 4WD is the first Axial® off-roader in 1/24 scale. At less than 8" long, it's the perfect rig to take along on your hiking, camping, and other outdoor and indoor adventures — offering factory-assembled ease, scale looks, and confident handling on any trail.
Even new modelers driving the SCX24 chassis will be well-equipped to tackle tough climbs and rough trails. Like the larger SCX10™ II chassis, this smaller version uses plenty of steel components — from the C-channel frame rails to the front and rear axles and dogbones. Even over off-road, mountainous, rocky and desert terrain, it has the strength to keep pushing onward and upward.
For the most reliable handling, the SCX24 chassis features a three-link front and four-link rear suspension. The combination of coil-over shocks and durable plastic suspension links delivers Axial-worthy crawling performance even at this small scale. The worm gear drive setup permits a high ground clearance plus a low gear ratio that reduces torque twist.
Powered by an included 180-size motor and LiPo battery, the SCX24 Deadbolt shows off competence and charisma on the trails. Check out that Deadbolt body — with its narrow stance, bulging hood, realistic driver figure, and molded roll cage with realistic light bar. The realism continues right down to the ground, where you'll find licensed KMC XD229 Machete Crawl wheels wrapped in Nitto Trail Grappler tires.
Adding even more to its beginner appeal, the SCX24 Deadbolt comes 100% complete and ready to run. Everything required for action is in the box: assembled and finished vehicle; Axial 3-channel 2.4GHz radio system with servo and ESC/receiver unit; Dynamite® 88T brushed electric motor and 350mAh 2S 7.4V LiPo battery; USB LiPo charger; and even four AA cells for the transmitter!
Check the My Orders page. In the upper right hand corner click on My Orders. If you don't have an account you'll first need to create and account to track your orders. Create an account by Clikcing Here. Once your account has been created you'll be able to track any future orders. All orders created without an account will have been sent to the email provided on the order. Please check your email. Thank you.
Please follow the steps below:
1. In case you need to return an item please contact our support: info@champion-rc.com please provide your order number as a refrence. You can also contact us by phone +1 (844) 49-CHAMP. Please be prepared to provide an order #. Thank you.

2. Once you've been provided an RMA# send the package back to us with return details provided to you.

If an item is out of stock we generally will have it back in stock within 2-4 weeks possibly even sooner. Items we no longer carry are marked as 'discontinued' but in some cases we might be able to find a replacement or even order the part. Please call us directly if you need a discontinued part or accessory. Thank you.
Each product has an 'Accessories' tab. If no accessories are available or the accessory you are needing is not listed please contact our support. Thank you.